Use Glass Beveling Machine To Produce Beveled Glass
By:LiaoDA
Date:2022-11-01
What Is Beveled Glass ?
Beveled glass has beveled edges that are cut and polished to create a kaleidoscope or prismatic effect. This creates a colorful look that normal window panes do not have. Beveled glass, windows or mirrors add style and visual interest. You can choose glass with a beveled outer edge or an intricate beveled design. This glass option has an impressive range of applications. You can use beveled glass in decorative windows, doors (as window inserts), table tops, cabinet doors, or as purely decorative wall hangings or artwork. Some homeowners also use beveled pieces in ornate leaded glass windows. In addition to translucent (clear) glass, you can also choose a beveled style for the mirror.
Now that you know what beveled glass is, where it can be used, and who should create or install these panes, it's time to take the next step and learn more about the benefits. The sophisticated aesthetic of beveled glass is the main reason for choosing this option. This type of glass offers designers a variety of options. You can choose not only a clear design, but also a frosted, tinted or colored beveled glass. Beveled glass is also a practical option, in addition to the decorative style offered by the beveled structure and the prismatic color. Insulating beveled glass keeps the cold out, keeps heated or cooled air in your home, and protects interior spaces from the elements.
Where To Choose Beveled Glass Machine ?
Glass beveling machine China manufacturers like us, LIAODA (LAD) Glass Machinery is adept in producing this machine which is very similar to the rotating bevel that is used for glass beveling. The main difference between these two machines is that in the rotating beveler, there is no need for the cutting wheel while in the glass beveler the cutting wheel is not required. Both of these machines can be operated by a single or multiple beveled cutter to create various designs for glass products.
The main components of both of these machines are: the bevel gear, the bevel plate and the grinding wheel. The main difference between the above mentioned components is that the former uses an electric motor to operate while the latter is a permanent magnet type of unit. The chain plates of the bevel plate are usually made from thicker steel and the slide bars are also made with some special processing methods using such characteristics as strong abrasion tolerance, better grinding performance, stability, and even self-leveling etc. 
The motor of this glass beveling machine also has a good torque, solid construction, low power consumption, suitable even for beveling and grinding of large numbers of glass pieces. The machine is made to be very efficient in the production of fine glass bevels with minimum wastage of materials and time. This particular glass beveling machine also comes with an optional laser alignment and grinding unit. Besides, automatic glass beveling machines have the ability to cut any shape as well as a straight edge. These beveled edges can be formed into any shape possible and can also be sharp edged or not. The sharp edged bevelling machine is capable of producing unique bevel patterns that are impossible to create by hand.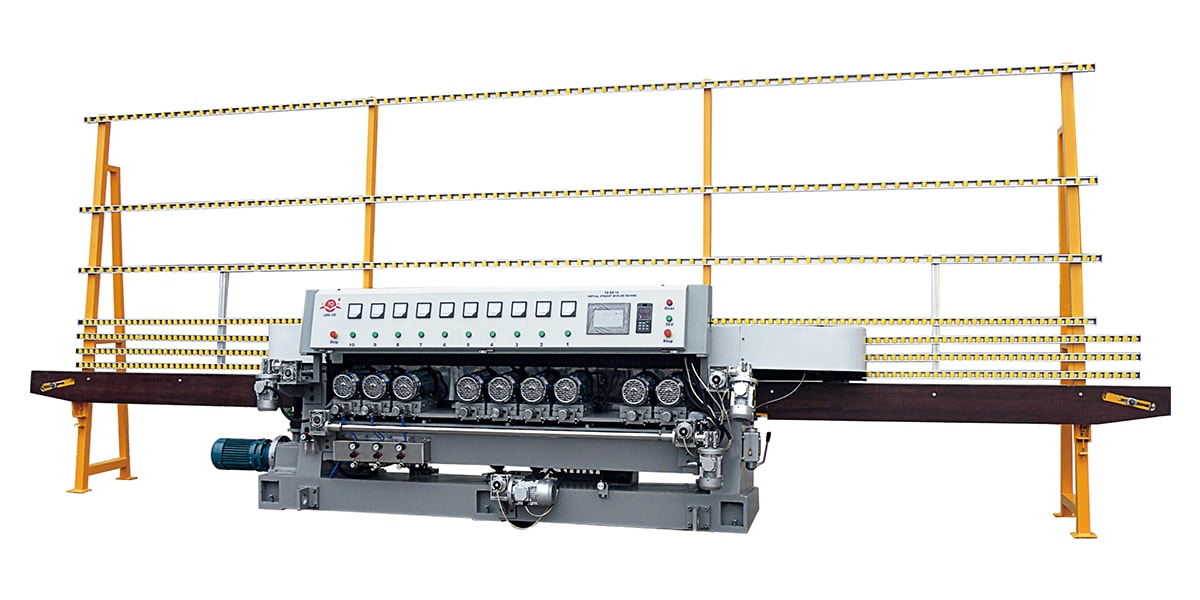 While operating this glass beveling machine, you will require at least one variable which is the bevel speed, the frequency of operation, the cold and hot water feed rates etc. The main differences between the above mentioned machines is that the former does not require any external electrical power source and also uses a regular type of stepper motor for the motion of the metal plate on the stainless steel water slide. It just needs a regular amount of water flowing through the pipes and the main control panel of this bevel machine has an option to adjust the frequency of operation automatically depending upon the flow of water. The other option is to regulate the flow of water manually by adjusting the frequency of your machine.
The main reason behind its popularity is its high-quality performance. Many industrialists who are in need of beveled edges that are cut to a certain degree for various purposes are always in search of these glass machines. It is a very important part of every industry, since it directly contributes towards a high-quality of finished product. As a matter of fact, the industry is growing day by day due to the high-quality of finished product that it produces. Since the demand of this machine is always increasing in any industry, so the competition among glass beveling machine suppliers like we and our counterparts is quite high. Many people are looking for a quality beveled edge with high-quality cutting capability, so one could consider our products for your glass processing.
CONTACT US


LIAODA (LAD) Glass Machinery Co., Ltd.
We are always providing our customers with reliable products and considerate services.
If you would like to keep touch with us directly, please go to contact us