Types of Different Round Glass Cutting Machines
By:LiaoDA
Date:2022-09-14
Introduction 
This blog Is About Round Glass Cutting Machine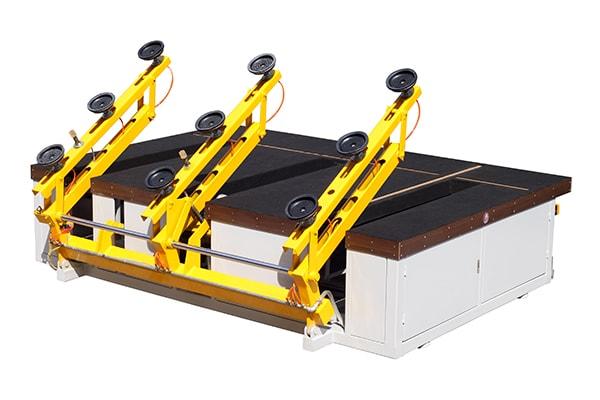 Read further to answer questions like:
What is glass cutting?
Glass cutting process
Glass cutting machines......
What Is Glass Cutting ?
A round glass cutting machine is an indispensable machine for glass processing. The machine has a stepper motor with Omron PLC controller and a touch screen input to operate. It can adjust the speed and acceleration, rotational angle and time delay automatically. The use of a round glass cutter can save the labor intensity of glass cutting. It can be used to cut everyday necessities like glasses and mirrors. It can also cut automotive rear view mirrors. Although the automatic glass cutting machine price is expensive, its advantages and capabilities are undeniable. But for small businesses, manual and semi-automatic machines are considered better choices due to cost factors and the quantity required for production and processing. Therefore, in the current industry scenario, it is better to choose a machine that suits your industry and budget.
Today, glass cutting machines can cut materials in curves and straight lines, move and break glass as needed, and can also drill perfect holes. These machines can not only cut glass of different thickness, but can also be used with triple composite material, a new material modeled on laminated glass, which is compressed into a strong blade by heating. The automatic glass cutting machine has broad development prospects in the production line with its unmanned operation and higher efficiency. Although many industries still use manual and semi-automatic machines, once fully automatic machines are noticed and popularized, they will soon appear in the industry. If you want your business to outdo itself in terms of performance and efficiency, choosing the right machine is very important.
Round glass cutting is a method of weakening the glass structure along a score line, which can be broken by applying controlled force; this splits the glass into two parts along the score or crack line. Glass cutting is the same regardless of the application, whether for industrial or DIY applications. Variations in this process are related to the size of the glass sheet and its thickness. A fundamental element of glass cutting is the scratch, which is a weak point formed in the glass that can be manipulated lightly. Appropriate cutting grooves allow easy and clean separation of glass sections. After separation, the edges of the glass can be sanded, shaped and smoothed.
Glass Cutting Process
The cutting wheel in LiaoDa glass cutting saw machine cuts glass by fractureing the surface and creating a fissure. This fissure is almost invisible and can be seen only by the continuous band of reflected light. The force and speed of the cutting wheel are the two main factors. For example, the maximum speed of a saw should be as high as possible to create a fissure without crushing the surface. If the force applied is too high, the glass will break and a white gritty line will appear. When using a round glass cutting machine, the most important factor to consider is the thickness of the glass. Glass that is thicker requires a heavier cutter. This can help make the cutting process faster and more efficient. A round glass cutter is usually able to cut the glass in a single straight line. Some of these machines have an adjustable width range so you can adjust the length to fit any bottle. Some of them even have a water jet, which is good for cutting thick glass.
Glass Cutting Machine 
LiaoDa Glass cutting machine uses a diamond to make splits, but in most cases they use a cutting wheel made of hardened steel or tungsten carbide. The profile of a cutting wheel is measured in 'hone angle,' the sharper the V, the thicker the glass. The blade of a glass cutting machine can also be used to cut thin pieces. If the cutting wheel is too big, the glass will crack or shatter. The cost of a round glass cutting machine will depend on the amount of work it will be used for. Some are meant for professional glass cutters, while others are meant for weekend hobbyists. Obviously, the type of work and the price will be directly proportional to the level of quality. Professional-quality tools will cost between $100 and $300, and hobbyist models are usually less expensive and smaller. For smaller jobs, the budget-friendly models will probably be much more affordable.
The cutting wheel should be large enough to reach the edges of the glass. The cutting wheel should not be thicker than 0.0625 inches to prevent the glass from being damaged during the cutting process. The covering material should be free of burrs, and the cutting surface should be cleaned along the cut line. The wheel of a glass cutting machine should roll easily, evenly, and smoothly. There should be no obstacles that could hinder the cutting wheel's movement. When selecting a round glass cutting machine, keep in mind the size of the workpiece. To increase the accuracy and control of glass cutting, the operator can adjust the size of the glass before use on the machine with a PC computer. A PC software can also help optimize the cutting size and provide data for processing.
Focus On Round Glass Cutting Machine
LiaoDa's round glass cutting machine is a good investment if you plan on making a lot of pieces of glass. It's simple to use and has several functions. This machine has a touch screen to set up different parameters. The machine uses a stepper motor that is capable of producing accurate results. Once the glass is loaded into the cutter, you can set the cutting time and angle. You can also adjust the speed of the motor. It's easy to operate and is highly accurate. It uses an automatic compensation system. This feature compensates for wastage and enables the machine to make perfectly shaped pieces, which allows it to follow curves and edges without dragging. The software automatically determines the optimal cutting size. The CNC-controlled glass cutting machine is packaged in a sturdy wooden box.
Besides, our round glass cutting machine is an excellent investment for hobbyists or professionals. The circular cutter has a suction cup that grips the glass and scribes an accurate circle. It also has a vacuum base to prevent the blades from breaking. The round cutter is made from plastic and comes with six numbered wheels. The vertical glass straight round edging machine YD-RE-series is a good choice for this type of cutting. There are many models of round glass cutting machines, and you can choose the one that works best for your needs. A compass-style machine is convenient and easy to use. The diamond pin and tungsten carbide cutter wheels ensure accuracy and ease of use. It comes with a suction cup base. Once you have chosen the round glass cutting machine, the next step is to load the glass into the cutter. After the glass has been loaded, it's time to turn the handle.
For glass cutting machine prices, LiaoDa has always been providing reasonable price for our clients. Moreover there are several kinds of round machines. Those that are designed to score and cut round shapes are great. The latter can be used in the case of a round machine. The former is more convenient for beginners and can be used with a small glass. The latter is a good option for beginners. There are many types of cutters, and a few are perfect for every need. However, you should always take the time to find the one that is right for you.
Automatic Glass Sandblasting Machine
Generally Speaking,  Sand blasting machine is used for cleaning and sandblasting glass surfaces. Its powder coated body is strong and durable, and it includes a dust filter. It has filter bags that catch the dust from the sandblasting process and discharge it into an appropriate container. The cabin is made of rubber to prevent damage. The sand blasting machine is operated with the help of a computer system, or it can be operated manually. A sand blasting machine can also provide three automatic and one manual sandblasting guns, which can be changed as the need arises. Traditional glass sandblasting machine uses compressed air force to spray sand at the surface of the glass. Liaoda's horizontal glass sandblasting machine is completely different from this. It does not utilize an air compressor. Instead, the glass moves on a conveyor belt. Whether you want a specific pattern on the glass, you can easily use a horizontal glass sandblasting machine to achieve the results you desire.
The automatic glass sandblasting machine is controlled by a PLC. The machine can process flat glass of three to nine mm thickness. Its dual-motor design allows it to adjust the height and width of glass as needed. This machine also has a high level of efficiency and requires minimal maintenance. It can also be used for different types of glass, such as figures, charts, and surfaces. This sand blasting machine for glass can use the PLC with touch screen, can set sandblasting height, width on the screen and create a frosted surface or deep contours. It also makes other decorative finishes possible. it will create a smooth surface with sharp edges, or a textured surface with a pattern. It's essential to consider the safety and environmental issues that you'll face while using a sandblasting machine for glass. Conventional sand is the most obvious and common option for glass sandblasting machine. However, do not use sand by mistake. Any large debris in the sand, like small stones, can cause a lot of damage to the surface you are working on. They are also very dangerous at high speed. If your center does not have sand specifically for sanding, look for sand for children's sandboxes.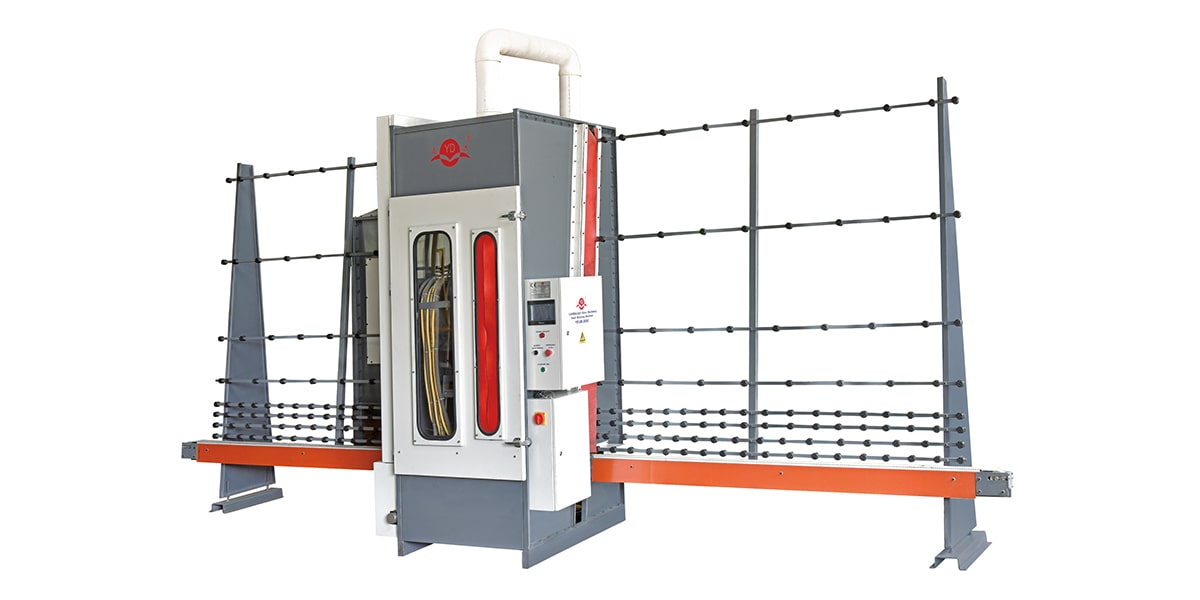 LiaoDa's automatic glass sandblasting machine is an innovative process that eliminates the need for compressed air. Its flat blades accelerate abrasives and travel down at ultra high speeds, impacting the glass surface. The airless blasting process produces a fine blasted surface. it is an ideal choice for processing glass sheet. They can process glass sheets up to 2500mm in width and come with a blasting cabinet, dust collector, and conveyors. The manual sandblasting machine is an alternative for small-scale companies. These machines are not as complex as the automatic sandblasting machines, but they are still more affordable than many other options. Besides, The three parts of a sand blasting machine are: a gun, a container, and an abrasive. The gun is attached to the upper division of the container. The hose carries the sand through the blasting media. Our glass sandblasting machine is a moderately priced and effective piece of equipment that is extremely efficient for removing paint and coatings from glass.
If you need to clean something quickly and efficiently, sandblasting is one of the best ways to do it. Although most often used in commercial applications, sandblasting has a variety of uses around the home. This cleaning method involves ejecting small particles or particles from an air compressor at very high speeds. When these particles hit the surface, all surface debris, such as old paint or rust, is washed away. Regardless of the application, a sandblasting machine can be used for both glass and metal surfaces. A rotary sandblasting machine is a popular choice for engraving and freehand drawings. It is easy to learn and uses a simple system, LiaoDa can also give the technical supports so long as any problems in opearating the sand blasting machine.
Glass Belt Grinding Machine For Raw Glass Processing
The process of grinding glass is a highly demanding process and therefore, you need a high-quality machine that can perform the process effectively and efficiently. The good news is that today's glass belt grinding machines are available at affordable prices. This article will discuss the best ways to find these machines. It is important to know what to look for in a glass belt grinder. Read on to learn more about the benefits of these machines. Besides, they reduce energy consumption, which is an essential feature for businesses.
Liaodaglass belt grinding machine is suitable for rough grinding raw glass after cutting it. It has a rolling table for chamfering, obtuse angle, and angle. The machine is available in two types: dry and wet models, with a water spray device. Both the machines have a perfect structure that will not cause any damage to your glass. Moreover, they are very easy to use. The following are some advantages of these machines. Increase the productivity of your glass production and processing operations with an innovative, state-of-the-art glass belt sand machine. Made with the highest quality materials and designs, these glass ribbon grinders will give you longer life and increase your efficiency as they fit seamlessly into your daily operations.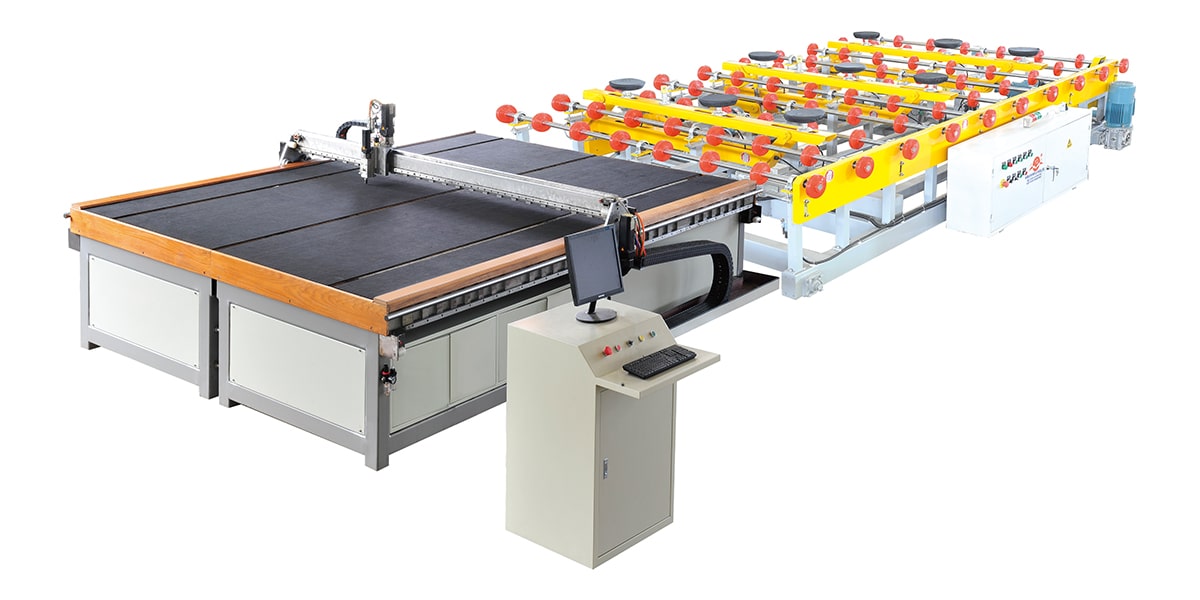 The dripping glass belt grinding machine is a good choice for grinding flat glass with a thickness of 1.16mm. It can perform both rough and fine grinding and can complete the C-angle of four corners. It uses imported double linear guides and a double rolling ball screw to ensure a stable running speed. The belt grinding machine for glass can be controlled with a touch screen, which makes it easy to use. In addition, you can directly set the running speed and width of the glass with this machine.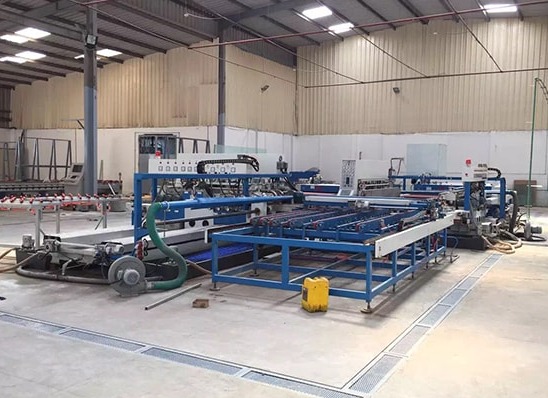 Advantage
High efficiency.
Less labor.
Automatic, energy saving.
Spindle quantity as requirement, can be 2-11 spindles each side.
Automatic glass loader, glass size and glass thickness scanning table for option.
Automatic safety corner function for option.
Can design straight line or L line two types direction to save space at workshop.
The line is suitable for double straight line edging or round edging machines.
As professional glass cutting machine manufacturer, we hold the idea that the cutting tool must be adapted to the size of the glass. A cutter that is too heavy to move will be difficult to use. It should also be equipped with a protective cover, ensuring safety. A good quality machine should be ergonomically designed and user-friendly. Once you find the perfect pattern, you can practice cutting scrap pieces to make sure it fits your needs. Then you can use it for commercial purposes. Also, if you have any questions about our products, please feel free to email us at LiaoDa [email protected].
CONTACT US


LIAODA (LAD) Glass Machinery Co., Ltd.
We are always providing our customers with reliable products and considerate services.
If you would like to keep touch with us directly, please go to contact us